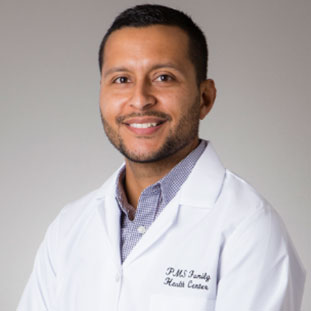 Santiago M. Ayala, MD
Associate Medical Director for Primary Care
Dr. Ayala was born in Houston, Texas but was raised in Huandacareo, Michoacan in Mexico. He migrated back to the United States along with his family at the age of 14. He graduated with honors from Austin College in Sherman, Texas where he obtained a Bachelor's degree in Chemistry and French. He pursued a career in medicine and graduated from UT Southwestern Medical School in Dallas, Texas and completed his Family Medicine residency at UT HSC in San Antonio, Texas where he received academic recognition and an excellence distinction in Geriatrics.
He came to Presbyterian Medical Services as his first job out of residency and has established himself very well within the community he serves in Rio Rancho, New Mexico where he has continued to pursue his passion in serving the underserved since 2014. His professionalism, leadership, motivation, and contributions have placed him among the organization's clinical leaders.
He served initially as Medical Director in his clinic and now as Associate Medical Director within the Clinical Affairs department to provide support, guidance, and direction to expand and strengthen the organization's mission throughout the State of New Mexico from Torreon to Hobbs to Santa Fe to Reserve
EEO Statement
Presbyterian Medical Services (PMS) is an Affirmative Action / Equal Opportunity Employer. We do not discriminate in recruitment, hiring, training, promotion, or other employment practices for reasons of race, color, religion, sex (including pregnancy), national origin, age (40 or older), physical or mental disability, genetic information, ancestry, serious medical condition, spousal affiliation, gender identity, sexual orientation, military status, veteran status or other legally protected status. In accordance with the Americans with Disabilities Act Amendments Act (ADAAA), reasonable accommodation will be made to applicants and employees upon request. PMS is a federal contractor required to abide by the requirements of 41 CFR 60-300.5(a) and 41 CFR 60-741.5(a). These regulations prohibit discrimination against qualified protected veterans and qualified individuals with disabilities, and require affirmative action by covered prime contractors and subcontractors to employ and advance in employment qualified protected veterans and qualified individuals with disabilities.
© Presbyterian Medical Services