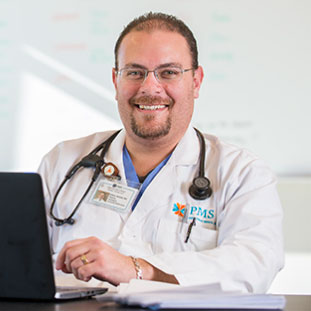 Dr. Andres Gensini
Vice President of Clinical Affairs
Dr. Andres Gensini, Vice President of Clinical Affairs at Presbyterian Medical Services, completed his medical studies at the Catholic University of Ecuador and the International University of Ecuador from which he graduated Magna Cum Laude.  He went on to receive post-graduate medical training in Family Medicine at the University of Texas Health Science Center in Houston.  Prior to moving to the United States, Dr. Gensini was a physician with the Health Ministry of Ecuador at Alberto Correa Cornejo Hospital in Yaruqui, Ecuador. 
 "I grew up in a physician environment – my extended family includes 18 doctors.  I was attracted to the study of medicine all my life.   I decided to become a family practice physician after working for a year in a rural health clinic in Ecuador.  PMS has provided me with an opportunity to give back to the community and to experience new challenges."
 Dr. Gensini started his career at PMS – Farmington Community Health Center in 2014 as a family practice physician and Medical Director.  In 2019, he was promoted to Vice President of Clinical Affairs overseeing corporate-wide integrated services for primary care, behavioral health and dental care.  In addition to steering the organization through the many challenges presented by the COVID pandemic, Dr. Gensini has prioritized developing a strong clinical support system for PMS providers statewide.
EEO Statement
Presbyterian Medical Services (PMS) is an Affirmative Action / Equal Opportunity Employer. We do not discriminate in recruitment, hiring, training, promotion, or other employment practices for reasons of race, color, religion, sex (including pregnancy), national origin, age (40 or older), physical or mental disability, genetic information, ancestry, serious medical condition, spousal affiliation, gender identity, sexual orientation, military status, veteran status or other legally protected status. In accordance with the Americans with Disabilities Act Amendments Act (ADAAA), reasonable accommodation will be made to applicants and employees upon request. PMS is a federal contractor required to abide by the requirements of 41 CFR 60-300.5(a) and 41 CFR 60-741.5(a). These regulations prohibit discrimination against qualified protected veterans and qualified individuals with disabilities, and require affirmative action by covered prime contractors and subcontractors to employ and advance in employment qualified protected veterans and qualified individuals with disabilities.
© Presbyterian Medical Services